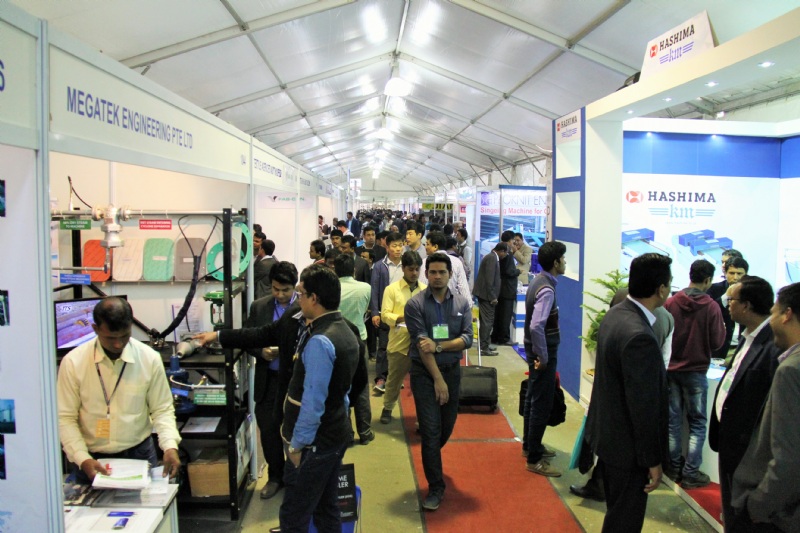 Embrace New Era for Bangladeshi Textile & Garment Industry at DTG 2017
The 2017 Dhaka Int'l Textile & Garment Machinery Exhibition (DTG), the largest-ever trade fair of its kind in Bangladesh, will run February 23-26 at Bangabandhu International Conference Centre (BICC). Now at its 14th edition, the grand annual event, jointly organized by Bangladesh Textile Mills Association (BTMA) and Yorkers Trade & Marketing Service Co., Ltd., will see the presence of over 1,000 exhibitors from 35 countries and regions, namely Australia, Austria, Bangladesh, Belgium, Brazil, China, Czech, Canda, Denmark, France, Germany, Hong Kong, India, Indonesia, Ireland, Italy, Japan, Korea, Malaysia, Netherland, Pakistan, Poland, Portugal, Romania, Singapore, Spain, Sweden, Switzerland, Taiwan, Thailand, Turkey, the United Arab Emirates, the United Kingdom, the U.S. and Vietnam.
Record Exhibition Scale
Since its first edition in 2004, DTG has kept its expansion in exhibition scale. This year, over 1,200 booths in 18 halls have been booked by exhibitors to showcase a variety of equipment, products, technologies as well as services and information concerning all the textile & garment processing and production aspects such as spinning, weaving, knitting, dyeing, printing, finishing, testing, washing, embroidery, sewing, etc.
Especially worth mentioning is that the fairground will be expanded this year to include the Celebrity Hall for the first time. The hall, located on the ground floor of BICC, will be used to highlight high-end overseas apparel fabrics and accessories brands.
Brisk Participation from International Brands
Inspired by prosperous economic outlook and competitive labor force of Bangladesh, many international brands have come to attend the fair to develop a solid presence and tap better business opportunities in the country. Among them are world's leading brands covering comprehensive textile
& garment supply chains, such as MAYER & CIE, PAI LUNG, SANTONI, SHIMA SEIKI, STOLL, TERROT, PICANOL, M&R, CTMTC, FONG'S, GROZ-BECKERT, KARL MAYER, LMW, RIETER, SAURER, Truetzschler, TOYOTA, etc.
Bangladesh Rising as Asia's Textile Hub
Over the past few years, Bangladesh has witnessed and greatly benefited from rapid development of the export-oriented textile industry. The country has become the world's No. 2 garment exporter after China, with the garment sector contributing 80 percent to its gross domestic product (GDP). Bangladesh also enjoys duty-free exports to the EU under the most privileged "Everything but Arms (EBA)" trade scheme, and gains a lot of support from its global trade partners. Among them, Germany, now the single largest export outlet for Bangladesh-made garments next to the U.S., has promised to help the country's garment industry double its export volume. With these robust advantages, Bangladesh is emerging as a new garment manufacturing hub in Asia.
Ideal Platform for Fruitful Business Exchanges
Ever since its inception, DTG has been renowned for its high turnout of international exhibitors and trade visitors. It is widely seen as a must-visit, leading textile & garment machinery fair in Bangladesh. Come to visit DTG, and you'll be able to source a wide scope of quality machines, learn the latest industrial developments, and partner with key industry players. It's certainly the best opportunity for you to build contacts with potential business partners and access the global textile & garment value chains.